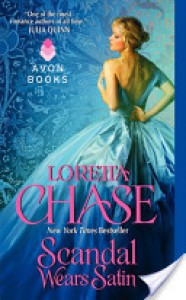 My review contains spoilers and they're mostly my thoughts as I went with the book...
Sadly, Scandal Wears Satin was disappointing and I have more than one reasons for that. Initially, I liked Harry a lot, who reminded me quite a lot of Rupert from Mr. Impossible. But as the story went on, I got really frustrated where he was concerned. Whoa but he confused me like no other! I wasn't really that impressed with Sophy in book 1, neither in this one. She was an OK heroine throughout. The story, in the middle, was dragging and bored me. Last but not the least, I grew tired of the numerous clothing related descriptions, with which I'm entirely unfamiliar, understand little and have no intentions of doing a research to find out.
The story begins where book 1, Silk Is For Seduction, left off. When Gervaise or Clevedon (the H) was in pursuit of Marcelline (the h), Harry, Clevedon's close friend and the son of his guardian, the Earl of Warford meets Sophy, the middle Noirot sister. Now, there is a family history of the Dreadful DeLucey's and the Noirots, which I don't want to repeat. But you can read my review of Silk Is For Seduction, where I've explained how they're connected to the Carsington Brothers series by LC. Also, if you haven't read book 1, you might feel lost, so it's recommended that you do. Noirot sisters are skilled in dressmaking, thanks to their Cousin Emma, with whom they trained when they were in Paris. Their parents, coming from DeLuceys and Noirots, had criminal tendencies of swindling and duping their way through wherever they went. This criminal tendency of these two families, especially the De Lucey's, who are English, make them so infamous. Marcelline, Sophy and Leonie are always trying to hide that part of themselves, though they can't help what's in their blood. I seriously disliked Marcelline in her book, at least for the first half. She was rabid about dresses, success and their milliner's shop, Maison Noirot to a point that it felt disgusting to me. She came off a real 'mercenary' as someone called her. There were other things too, which is why, even though in the end I enjoyed it, both Clevedon and Marcelline aren't really my favorite. In that book, Sophy was there but not much of a focal point. Marcelline is a talented dress designer and maker, whereas Sophy is good at social skills, which we might call, the publicity of the shop. Leonie has good brains in mathematics, so she handles the finances. Sophie has been working in a newspaper, as anonymous, and bringing the gossip to the Ton from functions and balls, where she would attend as hired help and 'blend' herself in as a servant. She is very good at these kinds of things, along with a good acting and writing skill. Her working in the Spectacles was supposed to be a secret that only her sisters, the editor of the Spectacles Mr. Foxe, and now Clevedon, Marcelline's husband knew of. She certainly didn't think Clevedon's loutish friend Longmore, aka Harry would recognize her anywhere when she's in one of her disguises. But Harry does that and more.
We found Harry in book 1 as someone hot-headed, who would act impetuously. He likes to break into fights, loves it actually, whenever the chance is presented to him. He's also a skirt-chaser, as Clevedon used to be. Though by the end of book 1 I sort of knew Harry's getting his book with Sophy, he also didn't create much impression on me. I was too befuddled by Marcelline and Clevedon's activities to even care. Anyway, here, Harry the Oaf confused the heck outta me. He must be one of the most confusing heroes I've ever read. Whereas, I found Rupert's so-called 'lack of brains' and other antics funny, interesting and so endearing, Harry's was boring and sometimes annoying. And I couldn't determine what he is, someone who doesn't like to use his brains or if he's hiding behind this façade. Throughout the book it was said that he doesn't want to think, doesn't care much for consequences of what might happen later after one of his antics. But it's not a problem when his nether region is speaking, as he proved with Sophy more than once.
The story actually started out fun. At least I was expecting it to be. I can't help mentioning these things from book 1 since they're so interconnected. In there, Clevedon was engaged to Harry's younger sister Clara. But he never took her seriously, and sort of, cheated on her with Marcelline. Marcelline's idea was (as I said she was rabid about her shop) to get the future Duchess of Clevedon as one of her patronesses. It'd help her become the best milliner's shop in London, if not in the world. They also had a competition and Marcelline doesn't care to compete as she *thinks* she's the best milliner in the whole world. That unfailing De Lucey/Noirot confidence; even when they're drowning, they'll keep their façade no matter what! Anyway, so after incidents, Clara did become Maison Noirot's patroness, though she isn't the Duchess now but Marcelline herself. Of course, the shop's reputation suffered due to various reasons. One was Clevedon marrying a commoner, a French one at that (the Ton doesn't know the sisters' family history) who is also a milliner. And now, the Ton's uppity matrons are up for ruining the reputation of the shop. The leader of this team is Harry's mother, Lady Warford, who has more than one reason to hate Marcelline and her shop. And this woman, she likes to dress at Downes', the competition the sisters' call the Dowdy's because they specialize more on traditional British fashion and not the eye-catching French ones. I didn't care for this snotty attitude from Marcelline at all. As I said, I'll never be one of those people who eat, live and sleep on fashion so I was honestly pissed many times.
The thing is that Maison Noirot is suffering from financial difficulties due to Marcelline marrying Clevedon. In the whirlwind of Marcelline-Clevedon's affair, Sophy and Harry become somewhat close. Sophy is now thinking of a way to bring the good name of Maison Noirot back. It's a difficult task but they have to do it, somehow, some way and Noirots don't much suffer from moral pangs, thanks to their ancestors. Then the news comes that Downe's shop is again busy and running well. Sophy takes Harry's help to pay a visit to the shop. She dresses and using make-ups transforms herself as one of Harry's plain cousins. Harry is already attracted to Sophy and thinking of 'sampling her charms' for sometimes now. You know, milliners/dressmakers are fair game and all that. These were just steps to get to that part. They do that and all, and on the way, they catch this boy, a street thief, who was trying to make do with Harry's purse (or something like that). The boy is a hard nut to crack but he's tempted to come with Sophy and Harry for a better living when Sophy offers him a job. But none could make him tell anything else about himself so Sophy names him Fenwick. Back to Maison Noirot, Fenwick balks at working here when Harry tells him that only women live and work in Maison Noirot. It was kinda funny, and Fenwick agrees to go with him. But Sophy does something crazy (with me shaking my head,

) and runs after Harry's carriage because 'she saw Fenwick first and thus, gets to keep him'. She even tries her groundbreaking acting and faints in front of the passersby, so that Harry is forced to give in. But what she didn't count on was him carrying her off to Maison Noirot and fussing all over her. I think Harry was genuinely scared of her well-being.
Clara finally jilted Clevedon in book 1, knowing that she wants something more than the crumbs of affections he's been showing. Now single, there are plenty of people vying for her attentions, because of her eye-catching dresses (and the big dowry too), thanks to Maison Noirot. It was kinda crazy that she's said to be very beautiful, yet because of the way she dressed (from Downes', more traditional), she didn't look appealing before. Anyway, she has been restless ever since. Even though Maison Noirot's dresses has lifted her spirits to some extent, her head wasn't clear... Or, she was just gullible enough to fall for the charms of handsome Lord Adderly, who had set his eyes on her, mostly because her huge dowry, which he certainly needs for his lavish lifestyle but poor financial condition. Adderly was a piece of nothing, but not that big of a villain IMO. He was just a weak character. He did lie to Clara about his affections and compromised her in a ball. Now they're engaged. This was another problem for the Noirot sisters. They needed to break Clara's engagement somehow, so that they don't lose her. A marriage to Adderly would certainly be devastating for both Clara and of course, them. It was easier for the sisters to assume since they knew Clara isn't up for this match now. The whole thing was a misunderstanding and she wasn't thinking hard enough. Clara is miserable but her stern mother won't hear of it. She would be married soon no matter what. It was a matter of prestige to the Warfords (according to Lady Warford of course). I don't exactly remember how but I guess Clara somehow got wind of the
real
reasons behind Adderly's interest in her and in despair, she bolts, only with her lady's maid, Davies in tow. At that point, Harry was in Maison Noirot with Sophy and Fenwick. His younger brother, Valentine comes in to inform him about Clara. Whoa, the panic! Not much for Harry, but for Sophy? Certainly! This can't be any worse for the shop now. If they can't do anything and bring Clara back before the Ton gets a hint of this, they can call Clara's patronage bye-bye. Definitely not good for the shop! Oh, there also maybe the fact that the sisters might've cared for Clara's well-being, hmmmm...

Anyway, Sophy makes fast plans. They need to go after Clara and she will take Harry and Fenwick with her.
Harry, of course, had to search for Clara anyway but he was also enjoying how Sophy took the charge. And they set out, following the trails Clara has unwittingly left behind. This part of the story became increasingly boring for me. They keep going with their search, staying in inns and so on. Even though Sophy didn't find the talks of Harry's 'aunts' (read: his mistresses and so on) with whom he travels with frequently, offensive, I did. Egh. Then, there were incidents between them, in those inns, which felt forced to me because I felt LC was trying to speed up their relationship development (if you can call it something like that), especially the physical aspect of it. Yah, they both wanted to shag each-other... Live in the moment and all that! I didn't find this appealing at all. They later find Clara, who is definitely not good at hiding her trails. With the obvious looks of a well bred lady and beauty (in addition to her good height), she was recognizable. On their way, they stop at an inn. When Sophy was coming out of Clara's room, some young bucks, and drunk, attack her. Harry the Lout can't help a fight (and a wee bit of possessiveness towards Sophy), so he save the day for her. In gratitude, Sophy thinks whadda heck! It would be a one night thingy anyway so, let's do it baby! I don't think I have to elaborate that if the chance is presented with enough incentive, Harry doesn't possess the will power to reject it and he's been panting after Sophy since day one. And so they spend the night shagging.
The next day, Sophy has this interesting idea of how to manage the little problem that Clara has created. Possibly the shagging was that good but who cares?! Anyway, to me, the whole thing was kinda... over the top, this whole plan of a widowed Madame from Paris, who's a friend of the Clevedons, to drag Adderly out of his façade of the devoted fiancé to Clara. I won't go into this craziness. In the meantime, Sophy was still reluctant to follow through where Harry was concerned. I have to give this, that the situation was kinda messy, since Harry's mother can't stand her or her shop, or her sisters. It was also true that Harry can't really marry a milliner, even though Clevedon did. Sophy could become his mistress (which she once contemplated, something I don't generally like when a heroine does that), but it's not good for the shop's already teetering reputation. For me, along with the frequent details of the knick-knacks related to clothing, this thing of 'I'm a De Lucey/Noirot, so I'm entitled to do things moronic' from Sophy also grew tedious throughout the book. Then, in a nutshell, Harry professes his love before Sophy, which caught me by surprise. I was literally agape as he walked out of the room afterwards, shaking his head, as if this is the ultimate mystery of the planet; something his wee brain can't handle. Anyway, the result as it was, the trouble was thwarted, leaving Clara's reputation intact and Adderly the deserving villain, as per their plan.
Sophy once told Harry that she'd take it as a challenge to make Lady Warford love their dresses. Then, after her affair with Harry (and the subsequent giving into
the lurrve
), Sophy knew if she could at least make her love the dresses, maybe Lady Warford would try to love her back. I really liked these last few scenes. One was that Harry takes the initiative to bring Lady Warford to Maison Noirot because he wanted his mother to know and love Sophy. Period! It was a really sweet gesture from him.
Lady Warford had to acknowledge that this young lady has saved her daughter. Sophy was overwhelmed by the motherly affection Lady Warford shows Clara, as she herself has never known that kind of gesture. It brought tears to my eyes too. Yah, I know, I'm weird that way. And then, when the little trouble of Lady Warford was taken care of (along with her patronage of course), there was nothing else that could stop Harry and Sophy to marry. Now, would Clara have her own story? I surely hope so! Also, who would be Leonie's match? Oddly enough, there was no clue to that. Would it be Valentine, Mr. Foxe or some other mysterious stranger? Eh, have to wait and see I guess. Meanwhile, 3.5 stars for Scandal Wears Satin.
PS: Was too confused by Harry to save any quotes from this one either. But there were funny dialogues aplenty, I can assure you of that. Now, have I mentioned the little snippet in the end, when Lady Warford starts wearing Maison Noirot's dresses, how she charms Lord Warford once again? I mean that part was just too cute, and sexy, if I might add. Nothing sexier than an older, devoted and experienced couple finding each-other once again, huh?
I was approved for an ARC of this book from Avon/HarperCollins (in edelweiss), which sadly, I couldn't finish in time. Still, I would like to thank the publisher for the opportunity.